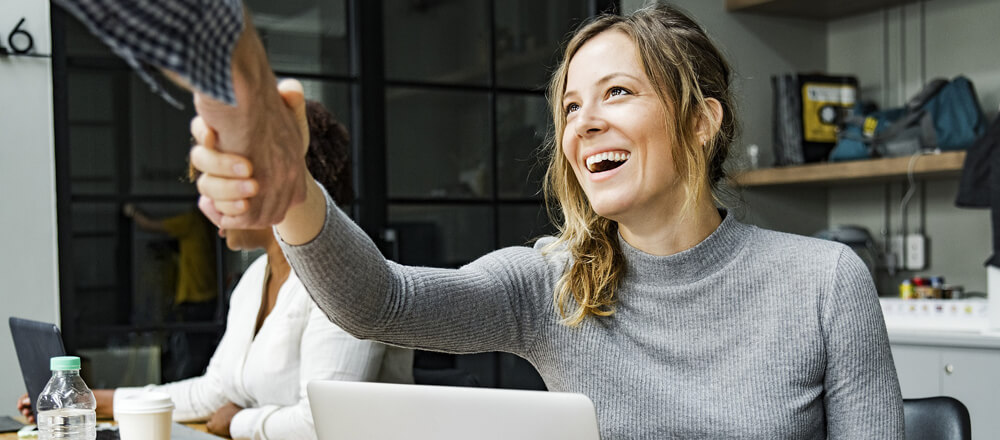 get in touch
Have an Enquiry?
Simply fill out the form below and we'll get back to you as soon as possible.
RECRUITMENT ADVICE
Recruiting Management Consultants Recruitment Advice
POSTED ON 02 Jan 2019
In an article on Inc.com, a reader asked: 'Is it better to have someone in a team who has a strong work ethic and can learn the skills. Or is it better to hire someone based on skills only? What is most important — their skill set, or their attitude and growth potential?'
This is a question that most hiring managers have asked themselves.
The traditional hiring process places great emphasis on skills. Person specifications and job descriptions are designed to find somebody with the desired skills and experience. These approaches certainly have their place. If nothing else, they make it easier for recruiters to objectively select candidates.
The problem is, this approach also fails to recognise the value of attitude. Is the person with the most skills and experience the best fit for your company culture? Are they willing to learn new skills? And how will they react if you ask them to do something they don't enjoy?
Yes, assessing attitude can be subjective, which makes it hard to include in a hiring process. But nevertheless, organisations are beginning to recognise the value of hiring people for their skills and attitudes.
But, which is most important?
Skills and Attitudes — Their Role in the Hiring Process
For some jobs, it clearly makes sense to hire for attitude and teach the necessary skills. For example, some entry-level positions are designed for people with potential that can be taught the right skills. Even for senior positions, there are times when there aren't enough candidates on the market with the right skills. Instead of waiting for months to find somebody, or having to overpay, it probably makes better sense to hire and train somebody with the willingness to learn.
Of course, hiring with the expectation of training can require a significant time investment. Additionally, it doesn't work if you don't commit to, and follow through on, teaching them.
In other jobs, experience and a pre-existing skill set are essential. For example, when you need a like-for-like replacement for somebody that works in isolation, and training and nurturing them is not a realistic option.
Generally, attitude is more important when working in a team or client-facing role, and less so (but still extremely important) when the person works on their own in a task-driven role. This is because attitude and social skills often come hand in hand — which is obviously important when dealing with other people. Attitude also affects motivation, ambition, and willingness to learn new skills.
As a result, it's much harder to change somebody's attitude than their skills. Somebody with a entrepreneurial attitude may alway be seeking to improve, whereas somebody with a more mundane attitude may be less likely to develop beyond their current capabilities.
Also, bear in mind that the economy and market is constantly changing and organisations have to adapt. Since your staff are responsible for executing your organisation's vision and plan, regardless of their existing skillset, they always need the ability to improve and adjust.
Should You Hire for Skills or Attitudes?
The question I mentioned at the beginning was answered by Alison Green — an experienced hiring manager, and author of Ask A Manager. Alison's response was this: when deciding to prioritise skills or attitudes in an interview, it depends on the position itself and the circumstances, for the reasons explained above. But one thing is for sure.
You should never hire based on skills only. Even if you need somebody that already possess the right skills, you should always expect the right attitude too. Why? Because attitude can't be taught (or, it's very difficult and time-consuming to teach, and there's a high chance of failure).
Which Attitudes are the Most Important?
Warren Buffet, the second wealthiest person in the US (according to Forbes) and one of the most successful investors ever, said that he looks for three traits in everybody he hires: intelligence, energy and integrity.
Why?
Because somebody with high energy, high intelligence, and low integrity is smart and works quickly, but will probably end up making enemies and doing more harm than good in the long-term.
A person with high intelligence, high integrity, and low energy has potential but is unlikely to use their initiative.
A person with a high energy, high integrity and low intelligence is someone who works hard but can't solve complex problems or affect any significant change.
Intelligence, integrity and energy aren't the only (or even the best) attitudes to select for your organisation. But, they are certainly a good place to start.
If you would like to determine which attitudes you should seek in a candidate, ask yourself: which attitudes do you personally value in a colleague, which attitudes do your team value, and which type of person would help the organisation fulfil its mission and purpose?
If you need help with your interview process, read how long is a Management Consultancy Interview?
If you're struggling with CVs, read our guide on how to review a CV for management consultancy roles.
Want More Career Advice?
If so, we publish regular career advice. Alternatively, if you would like to speak to us about finding a new management consulting role, or about your career in general, then contact us. You can also submit your CV or if you're looking for a new role you can view our latest management consulting jobs and submit an application directly.
Learn more about the team at Ascent Professional Services - read our about us page.

get in touch
Have an Enquiry?
Simply fill out the form below and we'll get back to you as soon as possible.