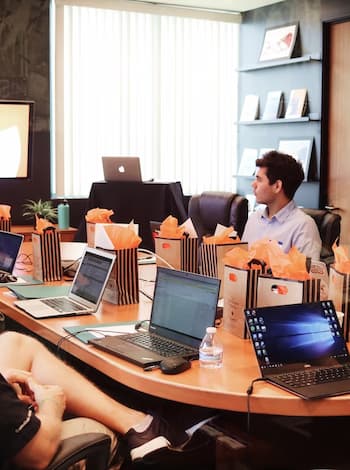 get in touch
Have an Enquiry?
Simply fill out the form below and we'll get back to you as soon as possible.
CAREER ADVICE
What skills do I need for a career in management consulting?
POSTED ON 20 Sep 2022
A career in management consulting will be a varied, fast-paced, and exciting one, with the chance to work on a range of interesting projects for multiple clients. Management consultants are renowned for their ability to manage time efficiently, deal with stress and tight deadlines, and have a cool head and analytical prowess. Take a look at our advice below on what skills are necessary for a successful career in management consulting.
Excellent communication skills
Although communication skills are usually a basic prerequisite for any job, the ability to clearly articulate concepts and ideas is a truly vital skill for a career in management consulting. A typical task of a management consultant might entail interviewing the client's employees, management team, and stakeholders, and running focus groups to get a clearer picture of how to resolve the client's issue. It's also important to liaise with the client continually throughout the process to keep them in the loop about progress, as well as presenting findings and recommendations along the way. Communicating succinctly and with confidence is a hard skill to master, but one that is highly valued and necessary for a management consultant.

Analytical and critical
As highlighted by Indeed, critical thinking is 'the ability to process information and make informed decisions on a particular subject.' The first step for a good critical thinker is to know how to analyse and review data which has been collected, which is a skill in itself! Management consultants need to know how to critique large volumes of data and pick out useful information that is relevant to the client. It might be how they can better streamline internal processes, or better execute their 10-year strategy. Thinking critically about how to resolve the client's issue is a vital part of being a management consultant, and why STEM-based degrees which are numerical or analytical in nature can be an advantage.
Being dynamic and adaptable
The range of tasks a management consultant might conduct on a given day is vast, from presenting to clients, analyzing data and conducting interviews. As we have mentioned before in our previous blog, management consulting is a demanding career that can entail a lot of overtime during busy periods. There might be tight deadlines for a particular project while other tasks continue coming in, so the ability to multi-task is vital. Consultants can also spend a considerable amount of time traveling between client offices, whether in the UK or abroad, so the ability to adapt to working in a different environment each day is also a key skill in this ever-changing industry.
Organization and project management
Whether you want to work in a particular industry, such as finance or life sciences, or take a more generalized management consultant role, there will be no shortage of projects to work on. Time management is of course needed in nearly every job role, but is of particular importance in management consulting, where clients pay large sums of money for projects which they will expect to be completed on time. Staying organized and maintaining a calm head under pressure is necessary to meet the client's expectations and successfully complete the project. Keeping tabs on lots of projects at once can be a challenge, but strong organizational skills will help to keep all projects running smoothly.
If you have any questions or comments about this, or any general management consultancy recruitment enquiries, then please get in touch. If you are looking for a management consulting recruiter, learn more about the way we work at Ascent Professional Services. To learn more about the team at Ascent, view our About us page, alternatively, you can read more recruitment advice written by our team of management consultancy recruitment experts.
get in touch
Have an Enquiry?
Simply fill out the form below and we'll get back to you as soon as possible.