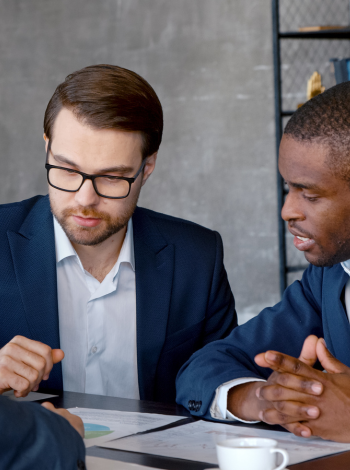 get in touch
Have an Enquiry?
Simply fill out the form below and we'll get back to you as soon as possible.
CAREER ADVICE
Building successful client relationships - from discovery to consistency
POSTED ON 25 May 2023
Strong, long-term relationships are key to the success of your consulting career. At Ascent, the relationships we've developed with our clients over the last twelve years have been essential to our growth and success, and we're proud to say that we've been working with some of our clients since the earliest days of Ascent Professional Services.

So, what have we learned about building successful client relationships over the years, and how can you apply those insights to help you in your own career?

In this blog post, we delve into four key aspects of relationship building and explore exactly how they can help you to forge stronger connections with your clients and colleagues, laying the foundation for long-term success.
Discovery: it's all about what you know
The first stage of any new relationship is often the most exciting, because it's all about exploration and discovery. The power of curiosity simply can't be underestimated, and if you can hone this skill, it will positively impact every relationship you have in your professional and personal life.
If you're just starting a relationship with a new client, the knowledge you acquire in this early stage will be invaluable in fostering trust, demonstrating your commitment, and establishing yourself as a valued partner. It involves immersing yourself in your clients' world and taking the time to find out as much as possible about their needs, challenges, and aspirations.
Our relationship with independent, award-winning consultancy, Oaklin, is a great example of how this works in practice. We've been working with Oaklin since the start of their growth journey, and we dedicated many hours at the beginning of our relationship to ensure we really got to know them properly. By investing this time at the outset, we were able to successfully place the majority of Oaklin's early hires, including Ben Parsons, who is now a partner.
Our key takeaway? ABC – Always Be Curious. Actively listen to your clients, ask insightful questions, and conduct thorough research to gain a comprehensive knowledge of their industry, market dynamics, and goals. This will enable you to align your services and develop solutions that meet their specific requirements, setting the stage for a mutually beneficial partnership.
Understanding: the key to
anticipating client needs
If the first stage of relationship building involves the acquisition of knowledge, then the second stage is all about developing a deeper understanding of your clients' needs. Understanding goes beyond surface-level comprehension; it involves empathising with their pain points, and applying your own insights to find the best possible solution for your client.

At Ascent, we know that it's much easier to do business with people you know and trust. That's certainly what we found when we helped Vynamic to grow their new London office from a team of two to over 20 people. The mutual understanding we'd developed led to a fantastic working relationship, all of us knowing that we were in it for the long haul.

By using the knowledge you've gained to develop a deeper understanding of your clients, you'll be able to anticipate their needs and proactively offer tailored solutions. This level of insight cultivates credibility and positions you as a trusted advisor rather than just a service provider.
Communication: the linchpin of any successful relationship
Transparent and open lines of communication foster trust, aid collaboration, and support problem-solving. Establish fast, effective communication channels that suit your clients' needs and preferences, whether that's face-to-face, phone calls, emails, Teams meetings, or a mix of the above.

Regularly check in with them to keep them informed about project progress, address any concerns, and obtain feedback. Actively listening to your clients is a vital part of the communication process, so be sure to reflect back what you've heard to check and demonstrate your understanding.

Effective lines of communication are vital in any big project, and recruitment is no exception. We've worked closely with Putnam Associates for many years, placing Jo Evason, who has since been made partner, and supporting them as they've grown into a multi-national firm with over 550 people. Effective, timely communication has played a big role in the success of this relationship.

Our recommendation? Keep the dialogue going even after a project has been completed. If you want to be in it for the long-haul, stay in touch with your client to show them how much you value the relationship.
Consistency: the glue holding your relationships together
Clients appreciate reliability, dependability, and the confidence that you'll deliver what you've promised. By consistently meeting deadlines and delivering high-quality work, you'll demonstrate your commitment to their success - and that won't go unnoticed.
Consistently going the extra mile for global procurement consultancy, Efficio, has led to a successful, decade-long relationship. During that time, we've placed over 200 consultants and helped them to open offices in new locations across the world.

To secure your own long-term relationships, strive to exceed your clients' expectations whilst maintaining a consistent level of service. Your efforts will pay dividends - building trust, fostering loyalty, and paving the way for successful, lasting partnerships.
Building trust and long-term partnerships
Building successful client relationships requires a deliberate and thoughtful approach.
By following the principles of discovery, understanding your clients' needs, effective communication, and unwavering consistency, you'll be able to establish long-lasting partnerships that fuel your career growth and success in the consulting industry.
If, like the clients mentioned in this article, you're searching for a trusted recruiting partner to help you grow your team, then get in touch.

And if you're a candidate looking for your next exciting consulting opportunity where you can put these skills to practice, check out our latest consulting roles, or submit your CV and we look forward to speaking to you.
get in touch
Have an Enquiry?
Simply fill out the form below and we'll get back to you as soon as possible.