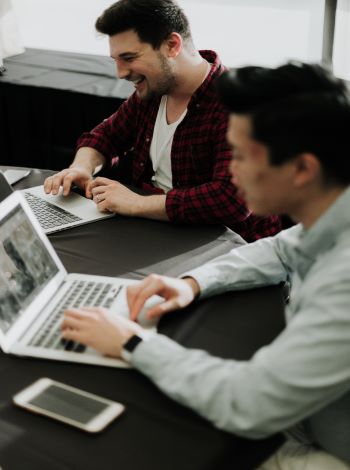 get in touch
Have an Enquiry?
Simply fill out the form below and we'll get back to you as soon as possible.
RECRUITMENT ADVICE
Job Interview Prep- Our Top 5 Tips
POSTED ON 12 Aug 2022
So, you've found your dream job online and applied for it, and then get invited for one, if not a couple of rounds of interviews. This is the make or break moment, and your chance to show the interviewer why you are deserving of the job! It's often heard that interviewers make their mind up in the first 5 minutes, so it really helps to prepare thoroughly to make a great impression. Job interview prep is a crucial part of the process, so read on to discover our top 5 tips.
Make sure to conduct thorough research
Any interviewer worth their salt will ask in-depth questions in order to find out how much you have done your research into the role, their company, and the industry in general. Make sure you know the job description inside-out, and know answers to the following questions such as 'when was our company founded?', 'what are the company values?' and 'how do you perceive the company's position in the industry?' It is also worthwhile spending time researching industry trends and keeping up to date with the latest developments. Even if you are not asked a specific question about it, slipping in your knowledge can help to earn you brownie points with the interviewer, and show you are serious about wanting to work in the industry.
First impressions are important
You only get one chance to make a good first impression, so make sure to give it your all! It is often said that arriving for an interview on time is late, so make sure to arrive at least 15 minutes early. Ideally, do a trial run of the route so you know how long it takes to get there, as well as allowing for some room to spare. Arriving early will ensure you can gather your thoughts and give yourself time to prepare, as well as show the employer you are punctual and take the interview seriously. Secondly, make sure to dress appropriately. Although the dress code in offices has relaxed somewhat due to working from home during the pandemic, it is always better to be overdressed than under. A suit is the obvious choice for men, and a smart blouse and skirt/trouser will be ideal for women. Pick something you will feel both confident and comfortable in and it will make the interview a lot more enjoyable.
Use the STAR technique for answering questions
It is easy to get in a bit of a flap when answering a complex interview question, and ramble on without providing any useful insight! As highlighted by Indeed, the STAR technique is a proven method of answering tricky situational questions systematically while providing all the essential details. Set the scene with the Situation, then explain the Task you had to complete and what the goal was. For Action, explain the steps you took to achieve the goal, and then end with the Result, and what you learnt and achieved. Don't leave it to the interview to think of examples; have a few up your sleeve which you can employ for common interview questions.


Prepare your own questions
It's not uncommon for interviewers to end asking the candidate if they have any questions; never say no! An interview is just as much as you finding out about the role and company, and if it's a place where you can see yourself working, as much as it is seeing if you are the right fit for the role. If you don't have any questions, the employer may think you are disinterested in the role, and won't leave a great lasting impression. Prepare a few intelligent questions you can ask, and take a notebook in with you to note down any which may come to you during the interview. A good example might be 'what does a typical day/week look like in the role?' or 'how does this position contribute to the company overall?', as well as any questions relating to training and development.
Make sure to follow-up
Following up after an interview is not only polite, but is another way to showcase your passion for the role. It is important to thank the interviewer for their time as well as another way to make you stand out from the competition, and solidify you in the interviewer's mind. If they have interviewed hundreds of candidates, it's the small things which help to distinguish you from others. Customise your follow-up to include things which were said in the interview and make sure to send it in the 24 hours after the interview. If you haven't heard anything, send a short follow-up the week after, and say that you look forward to hearing from them soon.
Interviews can be nerve-wracking, but can be quite enjoyable experiences if you follow our job interview prep tips listed above and prepare thoroughly. Practice makes perfect, and spending time preparing for the interview will pay dividends; all the hard work will be worth it when you win your dream job! If you have any questions or comments about this, or any general management consultancy recruitment enquiries, then please get in touch. If you are looking for a management consulting recruiter, learn more about the way we work at Ascent Professional Services. To learn more about the team at Ascent, view our About us page, alternatively, you can read more recruitment advice written by our team of management consultancy recruitment experts.
get in touch
Have an Enquiry?
Simply fill out the form below and we'll get back to you as soon as possible.