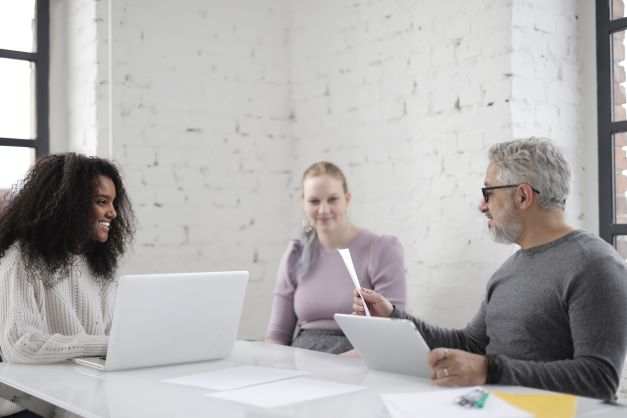 get in touch
Have an Enquiry?
Simply fill out the form below and we'll get back to you as soon as possible.
RECRUITMENT ADVICE
Why Should Management Consulting Candidates Should Work With A Recruiter?
POSTED ON 11 May 2019
Obviously, I'm not even slightly biased on this one...
I used a recruiter to get my job at Ascent Professional Services 8 years ago - thanks Pareto Law! I would have never found Ascent without my recruiter and I'm extremely grateful that I did!
Key advantages of using a recruiter
1. They can tell you about companies you won't have heard of, so don't miss out on less obvious opportunities by not speaking with a recruiter.
2. Recruiters save you time. They will do all the hard work for you, such as sending off your applications, chasing the clients and arranging your interviews.
3. Recruiters will make sure your CV actually gets reviewed. When you send a resume to a company, you rely on that document to be reviewed. But if a recruiter thinks you are a good fit for their client, you have someone who has a strong relationship with the right person to make that happen, and employers are much more inclined to invest serious time in reviewing it.
4. Recruiters guide you through the process. A good recruiter will make sure you are prepared for the interviews and will negotiate a good offer for you at the end. They can also give you CV advice and tailoring. If you would like us to look at yours, submit your CV.
5. Recruiters want to place candidates in the best role possible. For recruiters, your acceptance of a job offer means they get paid. Therefore, recruiters are competitive about placing candidates that will satisfy clients. That drive can only help you in your job search.
6. It doesn't cost the candidate anything. You get a lot of time, effort and free advice from an expert in finding people jobs for nothing at all.
7. You build a relationship with someone that could change your career for the better. Not only could a recruiter find you a new opportunity, but if you find a good one, stay in touch with them and they could help you in the future too, so ensure you maintain a good relationship.
8. Use them as a sounding board. There are some questions you simply couldn't ask the company you are interviewing with directly. However, you can ask the recruiter pretty much anything you want and it won't affect you negatively.
Read more about building a relationship with management consultancy recruiters.
If you need guidance or support finding your next role, contact us and we'll be happy to help in any way that we can. You can also see our latest management consulting jobs.
get in touch
Have an Enquiry?
Simply fill out the form below and we'll get back to you as soon as possible.