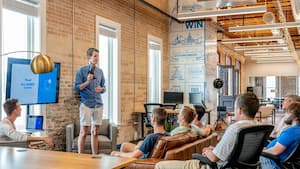 get in touch
Have an Enquiry?
Simply fill out the form below and we'll get back to you as soon as possible.
RECRUITMENT ADVICE
How Can You Make An Impact In Management Consultancy Recruitment?
POSTED ON 04 Dec 2020
Having recently reached my 1-year milestone within recruitment at Ascent Professional Services, I thought it wise to take stock of all that has happened in the past 365 days, and all that I have learnt. It has certainly been a rollercoaster of emotions, with plenty of positives, including achieving a promotion, and of course, some negatives. This is to be expected in an industry as unpredictable as recruitment, and I can still relate to those who have just started.
Here are my top 5 pieces of advice for those just beginning their recruitment career to hit the ground running. I am still definitely working on all these traits, so the quicker you can get into good routines, the better!
Be curious
Always ask questions! I cannot stress this enough. When you are starting, everyone around you has more experience and knowledge, and it's vital to take advantage of this. If you are sitting in silence, colleagues may assume you are fine. Be proactive, recruitment is too fast-paced to sit idle, if you are not willing to learn and improve you will get left behind!

Be organised
It is vital to get into good habits early on and be as organised as you can be. It's easy to not see the importance of this when you start, you don't have a big pipeline of candidates or clients to manage, and you can't see why you need spreadsheets, reminders, details logged on the database, but it is crucial! When you have a (hopefully!) healthy pipeline of candidates and several different clients, these traits will be essential in managing your day-to-day tasks and this, in turn, gives you the best chance of successful results.
Learn from your mistakes
The more you jump into the deep end, the more competent you will feel, so don't be afraid of making mistakes! You will not have time to sit around and be passive and just endlessly shadow people. It is much more effective to just get on the phone and not overthink it. What is the worst that can happen?! It is ok to tell people you are new and lack experience; they will understand and appreciate your honesty. The more you do this, the less daunting it will be, and the more confident you will come across.
Research your market
The better you understand your market, the more knowledgeable you will come across to your clients and candidates, and hence the more they will trust you and value your service. Keep up to date with latest trends and workplace advances. This information can come in various forms, such as articles, podcasts, news outlets. But the best source of information really is your candidates and clients themselves! Ask them their views on the market, they are the experts.
Communication is key
This links in with all the above points. Without a doubt, good communication is the single most important trait in any recruiter. In such an unpredictable line of work where things can change so quickly, making sure you are keeping good lines of communication with your candidates, clients and colleagues is vital in knowing exactly what is going on. Put reminders in your calendar to chase people up, call them, meet them, organise video meetings etc. Ideally at least once a week. Do whatever you need to do to make sure you have the latest information. There are so many variables and factors that can change a process, so keeping up good communication will keep any nasty surprises to a minimum.
View our about us page to learn more about the team at Ascent Professional Services. Read our latest case studies to see how we help support businesses with their management consultant recruitment needs.
get in touch
Have an Enquiry?
Simply fill out the form below and we'll get back to you as soon as possible.