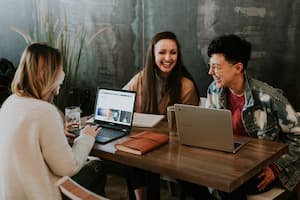 get in touch
Have an Enquiry?
Simply fill out the form below and we'll get back to you as soon as possible.
RECRUITMENT ADVICE
How To Build Relationships With Management Consultancy Recruiters
POSTED ON 27 Nov 2020
As a Recruitment Agent for a leading Management Consulting Recruitment Agency, I thought I would share some tips on how to get the most out of people like me!
Learn more about the Ideal Management Consultant Job Interview Process.
Moving jobs is one of the biggest things people will do in their lifetimes, and shouldn't be taken lightly. In the same way, without hiring people, companies simply couldn't operate. Therefore, if you are doing either of these things, you will presumably want to make the process the best it can be!
Here are my 5 top tips for both candidates and clients:
Openness and Honesty
Tell your recruiter what you are thinking, don't be afraid to give us bad news either, we can take it! We genuinely want to do a good job for you and prefer it when we know all the facts at the start of the process.
Response times
Quick responses are one of the most important things in any recruitment process, even if it is a "just checking on this" or "I'll get back to you tomorrow". I'd also much rather get a quick "no" from a client or a candidate. It actually motivates me when I get a "no", as I want to get to that "yes" by sending you the next perfect candidate or the next perfect role! The worst thing you can do is ignore your recruitment agent. It also won't help your cause if you want to be considered for another job, as recruiters may have moved on to somebody else by then!
Feedback
A bit of feedback from a candidate about why they aren't interested in a job or from a client on why the candidate isn't right will save a lot of time in the long run. If we know what you aren't interested in, we can learn what you will be interested in. This links back to being open and honest, and not just tell us what we want to hear!
Advice
Ask us what the market is like, how much people are being paid, what we honestly think you are worth as a candidate and whether your salary ranges are competitive with the market. We have years of experience and are only too happy to share what we have learnt.
Work together
Not against - remember we all have the same goal. Either to get you a great job or to fill a great role with our client. Give your recruitment agent all the tools to make that happen. That could mean for candidates to ask us for help with preparing for interviews, or for clients it could be something like arranging a conversation with the Hiring Manager to really bring the role to life.
There are lots more I'm sure, are there any more tips you can think of, please contact us. Or is there anything that your recruitment agent does that really annoys you? Would love to hear your experiences! If you're looking for next role, check our latest management consulting jobs. You can also submit your cv direct to Ascent Professional Services.
get in touch
Have an Enquiry?
Simply fill out the form below and we'll get back to you as soon as possible.