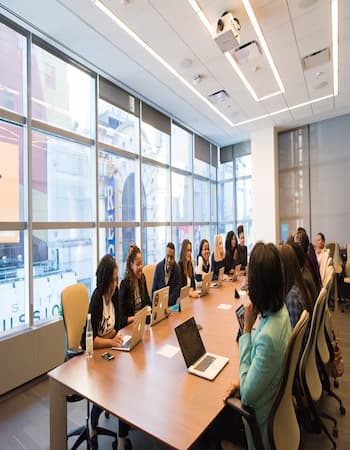 get in touch
Have an Enquiry?
Simply fill out the form below and we'll get back to you as soon as possible.
CAREER ADVICE
Is it possible to have a work life balance in consulting?
POSTED ON 30 Jun 2022
Management consulting is known for being a stimulating, challenging and rewarding career path. However, it is also a career path known for a sizeable work load and often long hours. Taking all of this into account, is it possible to have work life balance in management consulting?

Typical management consulting workload
A management consultant's workload can fluctuate month on month, depending on the amount of ongoing projects. Projects usually last anywhere from a few weeks to multiple years and it can be possible to plan when your busy weeks are going to be in advance, giving you some control over your consulting work life balance. You can be pretty certain that the workload just before a deliverable will be pretty intense, but this should even out at other points in the cycle when you can afford a greater work life balance. Therefore, you can plan your workload according to your personal life a little more, and ensure you can have some work-life balance during not so hectic periods.
Management consulting working environment


However, there is no getting away from the fact that a career in management consulting will be a challenging one, with 50-80 hour weeks not uncommon during super busy periods. The consulting work life balance can also differ depending on what sort of consultancy you work for. If it is one of the Big Four, you could expect to work an average of 10.3 hours of overtime every week, whereas boutique consultancies tend to have one of the lowest rates of overtime in the sector, and therefore potentially a better option to achieve a consulting work life balance.


Improving the work life balance
It is well-known that management consulting offers very attractive salaries, with numerous benefits on top such as company cars and bonuses. Candidates lured in by the salary alone will have a shock when they get to work, as it is a demanding career path and one that requires drive, commitment and going above and beyond to deliver for clients. However, the consulting work life balance has been improving over the past few years, and even more so post- pandemic when mental health and wellbeing were really brought to the fore. According to Consultancy.UK, 'consultancies are increasingly implementing policies that provide consultants the room to get some time off from work to relax and recharge.' Having time off can lead to greater productivity and increased job satisfaction, and companies are increasingly expected to offer benefits alongside the great salary for a work life balance in consulting.
It is important to set realistic expectations for a consulting work life balance. If you are after a typical 9-5 job, then this isn't the sector for you! But by prioritising, delegating and setting boundaries, it is possible to achieve a better work life balance in consulting on a more regular basis. If you have any questions or comments about this, or any general management consultancy recruitment enquiries, then please get in touch. If you are looking for a management consulting recruiter, learn more about the way we work at Ascent Professional Services. To learn more about the team at Ascent, view our About us page, alternatively, you can read more recruitment advice written by our team of management consultancy recruitment experts.
get in touch
Have an Enquiry?
Simply fill out the form below and we'll get back to you as soon as possible.