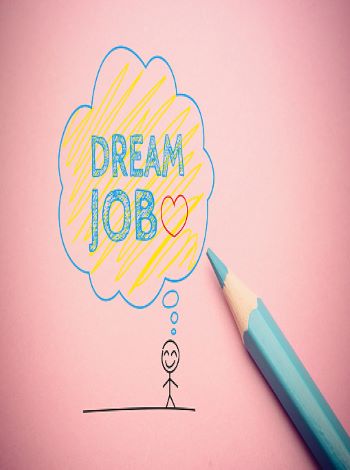 get in touch
Have an Enquiry?
Simply fill out the form below and we'll get back to you as soon as possible.
CAREER ADVICE
How can I find my dream job?
POSTED ON 07 Jun 2022
We all know how important it is to find a job you want to wake up for everyday, as according to researcher Andrew Naber, we will spend over one third of our lives at work: that's over 90,000 hours. It is therefore worth investing the time and really thinking about what your dream job would be. Once you've done that, you can start looking for it, and turn your dream job into a reality.
Identify where your passion lies
Although most people wouldn't do their job for free, it's important to find a role which you look forward to, you feel fulfilled doing at the end of the day. One of the best ways of doing this is thinking about what subjects, sectors and companies you feel passionate about and would be enthusiastic to work for. Even though your dream job won't be problem or stress free, being enthusiastic about your daily 9-5 will help you push through the hard times and give you perspective to help resolve the problems and maybe, emerge more motivated on the other side!
Does your experience match your skillset?
It is natural that most people's dream job would be one that they excel in, so it's important to identify both your hard skills, such as data analysing, web developing or copywriting, and soft skills, such as communication, teamwork and creativity. Once you have done this, you can look at which roles require the skills you have, and how you can tweak your experience to align with your dream job role. Identifying your competencies also allows you to see which parts of your CV you need to work on, and if you are lacking any skills that may be required for your dream role. It is then up to you to seek out how to improve your skills, whether through online courses or qualifications, to help you present the best version of yourself to land your dream job.
Think about what makes you happy
Job satisfaction comes in various forms and will of course vary from person to person. Perhaps making the most money possible might make one person happy, whereas feeling fulfilled by helping others, or flexible working hours which allows you to spend more time with your kids will satisfy another. Whatever it may be, it is important that your dream job will help you to achieve these things, as well as stimulate your mind and help you grow as an individual and as an employee. Long term happiness is essential for your dream job to still remain your dream job after 5 or 10 years, so think long and hard about a role that will fit your wants and needs as well as your dreams and aspirations.
Contact the professionals
Once you have completed the steps mentioned above, it's time to dive into the deep end and do the hard bit: actually finding an opening for your dream job! Spread your net far and wide, and try to connect and network with people in the sector/company/role you are pursuing, in order to gain the best chance of landing your dream job. Better still, get in touch with a recruitment provider who can do all the hard work for you! Good recruiters will have an extensive network to call upon, and will spend time with you understanding what you really want from your dream job. They are then in a fantastic position to find openings which may not even have been advertised, and give you advice and support all through the recruitment process.

If you have any questions or comments about this, or any general management consultancy recruitment enquiries, then please get in touch. If you are looking for a management consulting recruiter, learn more about the way we work at Ascent Professional Services. To learn more about the team at Ascent, view our About us page, alternatively, you can read more recruitment advice written by our team of management consultancy recruitment experts.

get in touch
Have an Enquiry?
Simply fill out the form below and we'll get back to you as soon as possible.