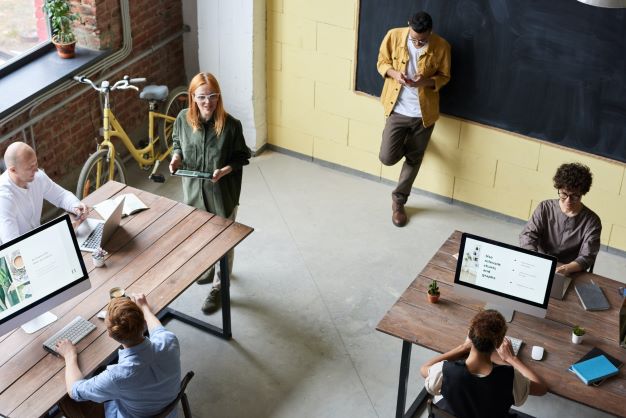 get in touch
Have an Enquiry?
Simply fill out the form below and we'll get back to you as soon as possible.
CAREER ADVICE
How To Find The Best Management Consultancy Firm For You
POSTED ON 03 Sep 2018
Moving jobs is a great way to move up the career ladder, but what happens if your new employer isn't everything you expected it to be? How can you know it will be the best consultancy for you?
Fortunately, we're here to help you avoid this situation and find a job that's right for you. Here's how to tell if a potential employer is a good fit:
Look for hidden information in the job description
We recently stumbled across a remote working position that included a monthly cleaner for your home, a MacBook Pro, shares in the company, and an extra 3 weeks of maternity/paternity leave.
How about that for a benefits package?
We're not suggesting that benefits are the most important consideration, but the job description can tell you an awful lot about the company that wrote it.
Some employers simply list the knowledge and skills that they expect from candidates. Others go the extra mile and include information about the company culture, social activities, and values.
It's not possible to tell how well they live up to those promises until you start working for them... but a company that puts time, effort and money into making themselves an attractive employer is certainly a better bet than a company that doesn't! It also says a lot about the people who work there, who will be the ones upholding those values and will make going into work everyday an enjoyable experience.
The point?
The job description is usually your first point of contact with a prospective employer. Rather than just using it to determine your interest and suitability, also ask yourself: "what does it tell you about the company's culture, values, and method of working?"
How to quickly research a prospective employer
Another way to determine if a potential employer is a good fit for you is to do some homework. Simple, yes. But you might be surprised at how much you can learn from even a few hours of research.
Here are some questions you might want to find the answer to:
What is the size of the organisation?
How long have they been in business?
What are their products and/or services?
What are their future plans and prospects?
What is the organisational culture?
What types of training, development, and appraisal do they offer?
Now that you have the questions, here's how to find the answers in 3 quick and simple steps:
Study their website
Many companies have pages dedicated to what it's like to be a part of their team, what their values are, and what their employees say about working there. If they don't, dig a bit deeper and read between the lines.
Check them out on Glassdoor or Salary.com
Take the reviews you see on these websites with a grain of salt. Like in other areas, people often only leave a review for their company when they are upset or angry. Despite that, if you notice a pattern amongst a number of reviews (positive or negative) then you might be onto something!
On interview day, take a look around.
There's only so much you can learn about an employer when you're looking from the outside in, so interview day is a great opportunity to get an insider's perspective.
When you arrive, take a look around. Are the staff smiling, laughing, enjoying themselves? What is their body language like? How do they respond to their managers? Although potentially small actions, these al contribute to the overall atmosphere of working in that company, and ultimately your job satisfaction.
Again, it's important to be careful not to make a judgement of an employer from this information alone. If you find that employees seem very quiet, serious, and tired it may be because they have a big project deadline looming, but they are actually very content.
3 killer interview questions to get the inside scoop
Interviews can sometimes feel like an interrogation but remember that it's a two-way street. You are entitled to ask questions that help you decide if the company is a good fit. In fact, as long as your questions are well-intentioned and asked with genuine curiosity, they will help to position you as an enthusiastic and intelligent candidate.
Here are three questions to help you learn what it would be like to work for a company...
"How do you measure the performance of employees?"
There's no right or wrong answer here, but their answer will give you an idea of whether you will enjoy working for the company. For example, if the interviewers don't really know how performance is monitored or their answer is very generic, then it probably means that you will have a lot of freedom. If that's what you want, great!
"What motivates people to come and work here, and what makes them stay?"
This question will help you understand the company culture. If the interviewers show genuine enthusiasm then you can almost guarantee that they enjoy working there.
"How would you describe the culture of the company?"
This will encourage a direct answer and give you a clear indication of whether it's the company for you!
You're not alone...
While it's important to do some research to figure out if a company is a right fit, you don't have to figure it all out on your own. We help hundreds of candidates land top consultancy roles every year, and as a specialist in the field finding our candidates an employer that's right for them is what we do every day.
If you want to get the ball rolling on finding your next role then why not contact us for more advice, submit your CV, or browse current management consulting jobs.
get in touch
Have an Enquiry?
Simply fill out the form below and we'll get back to you as soon as possible.