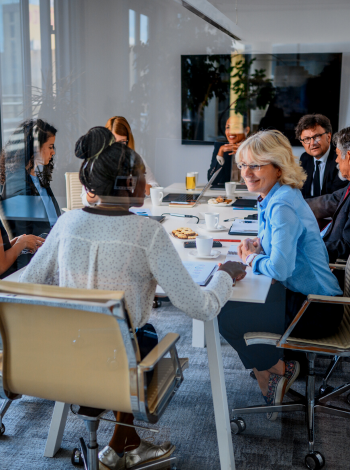 get in touch
Have an Enquiry?
Simply fill out the form below and we'll get back to you as soon as possible.
CAREER ADVICE
Moving from industry to consulting – is the grass really greener?
POSTED ON 02 May 2023
Are you considering a move from industry to consulting? You're not alone.
It's something we often hear from people who have carved out a successful industry career, or developed a particular area of expertise over the years. After all, your skillset, experience and expertise are likely to make you a valuable (and valued) asset for many consultancy firms.
However, staying in your industry role, or seeking a position in another corporate firm can be tempting. You know what you're getting into, you're familiar with the internal politics and the culture. But there's something missing, right?
Consulting offers a completely different way of working. Yes, it can be a lot of graft, and you'll need to make sure the work-life balance is right for you, but you'll gain experience with a wide variety of clients, get involved in many different kinds of projects, and you'll have the freedom to enjoy the financial rewards that often come with consultancy roles, too.
Contrast this with the potentially predictable day-to-day in your corporate role, and it's easy to see how the urge to jump the fence can happen.
Over the years, we've worked with thousands of talented people from both sides of the tracks. Those with successful careers in FTSE 100 companies looking to make the leap into consulting, and vice versa. And we've heard all the ups and downs of both.
This insight means we're uniquely placed to offer you some advice on the pros and cons of both routes. So, which side really has the greenest grass? Here's our guide to the key questions you need to ask yourself, as well as any prospective employer, before you make the leap – in either direction!
What's the culture like?
Every company we've ever recruited for claims that they have a great culture. However, that's not always necessarily the case. Company culture can differ hugely, often as a direct result of the personalities and styles of the leadership team.
Often, there can also be a direct correlation between culture and profitability. When a company is operating on low margins, they try to cut costs wherever possible, and company culture is usually the first thing to suffer.
Although consulting firms also have a wide variety of cultures, in our experience they have the edge over their corporate counterparts. They tend to be fast-paced, entrepreneurial and social in nature, offering greater autonomy and more flexible working practices.
Is the work varied?
When working in industry, particularly for a large company, your role can often be limited to a fairly narrow scope of work, with few opportunities to get involved in projects that sit outside your direct remit. If you're the kind of person that enjoys variety in your work, you'll soon get frustrated.
This is definitely not the case in most consultancy firms, where projects, services, clients and locations can differ so much that no two days are ever the same!
That may not suit everybody, so if you're considering switching from industry to consulting, ask yourself if you could cope with this significant change.
What opportunities exist?
When it comes to progression, nothing beats consulting. It really is a meritocratic environment. Do well, work hard, and you will be rewarded for your efforts. It's that simple.
Working in industry, the picture can often be a little murkier. Progression pathways aren't always clear, and pay rises are often dependent on company, rather than individual, performance.
If you're planning a move, always dig a little deeper into the progression routes available. How big are the teams, and how long do people stay with the organisation before they're either promoted, or move on to another firm? That should tell you how quickly you can expect to move through the ranks.
What about the people?
The people you work with every day have an enormous bearing on your day-to-day happiness and workplace satisfaction. One thing we've noticed over the years is that consultants generally seem to get along very well with their colleagues.
Typically, consulting attracts people who are career driven, bright and motivated. They also have strong communication skills and are able to adapt quickly, which can help to reduce workplace friction and smooth over difficult situations when the need arises.
So, to wrap things up, if the grass where you are right now is looking a little sparse and brown, jumping to the other side of the fence isn't necessarily the answer to your problems. You may just be in the wrong role for this point in your career.
However, if the world of consulting still appeals, get in touch. We can help you find a new role where the grass is lush, thriving and right for you.
Feel free to contact us and tell us what you're looking for, take a look at our latest consultancy roles or submit your CV.

get in touch
Have an Enquiry?
Simply fill out the form below and we'll get back to you as soon as possible.